Turnips (Yung Dok in Dzongkha) or Brassica Rapa (for those who are botanically minded) are a prominent root vegetable in Bhutanese cooking. And since they taste the best when they are grown in cooler temperatures (ideally between 5° – 24° Celsius) Phajoding provides a perfect environment for their cultivation. Well-drained soil and a good rainfall are also important prerequisites for a healthy crop so given that Phajoding is in the water catchment zone for the Thimphu valley and positioned on a well-drained slope you'd expect the quality and quantity of the Phajoding turnips to be high. The photo below can demonstrate the quantity but to determine the quality you'll have to make a trip to Phajoding and taste for yourself! But speaking from personal experience- I can attest that they are of a superior quality.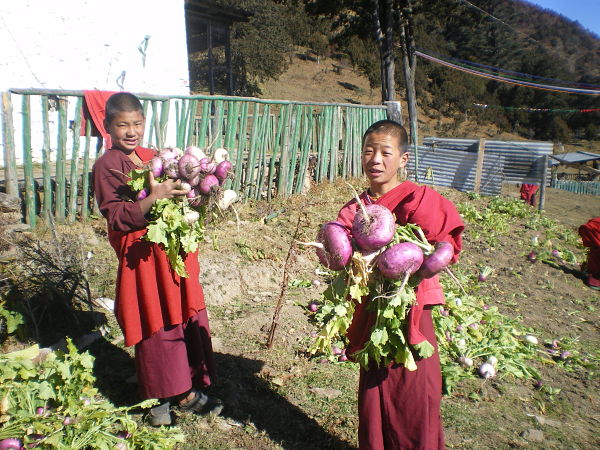 The root of the turnip is used to make a Bhutanese curry known as Yung Dok Datse or turnip cheese. For those of you who want to serve up something different to your family or friends, Lama Namgay has kindly offered to share his recipe, which is always served with rice.
Lama Namgay's Yung Dok Datse
Ingredients
3 medium sized turnips
3-4 large green chillies * (slice lengthwise and remove seeds according to taste).
2 cloves of garlic
2 tablespoons oil
1 tsp salt
1 soup bowl of water
½ cup of local grated cheese (which is similar to a paneer cheese)
(* A word of caution: chillies are treated more like a vegetable rather than a spice in Bhutan which makes the Bhutanese cuisine range from hotter to hottest)
Preparation
Peel the turnips and cut into desired shapes. Chop the chillies in slices and crush the garlic. Start off first by cooking the turnips, chillies and garlic with the salt and oil. When the turnips are more or less cooked add the cheese and place the lid on the pan and lower heat. Further cook till the cheese melts and blends well with the other ingredients.
Voila – Yung Dok Datse!
The resourcefulness of the Bhutanese people is demonstrated by the way they also utilize the turnip leaves to make a delicious soup called Lom Jaju (Turnip leaf soup). Lama Namgay has taken this great shot of the turnip leaves drying in the cool mountain air. Provided that there is no rain, it takes around 2 weeks for the leaves to be fully dried.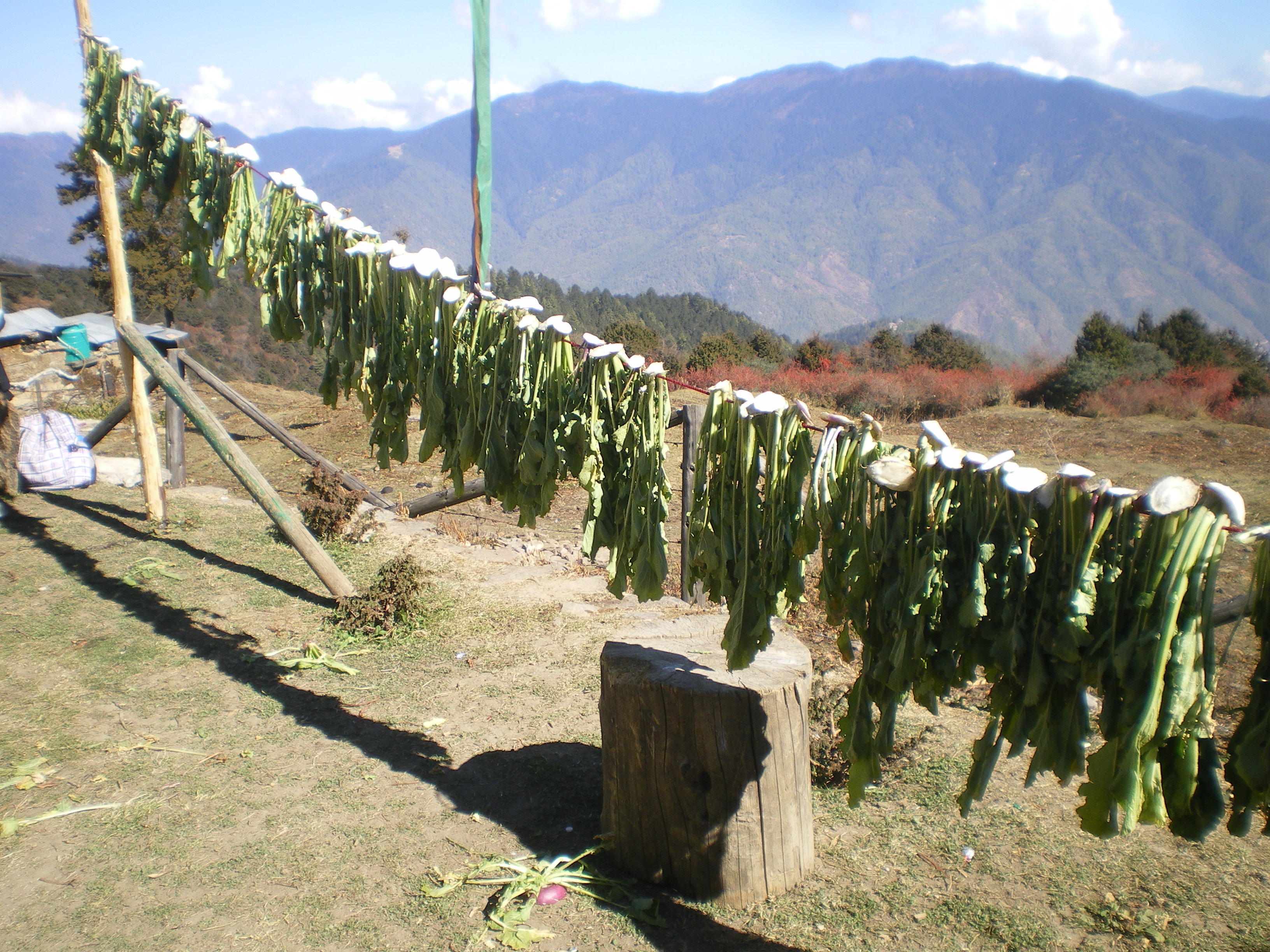 Lama Namgay's Lom Jaju
Ingredients
1 bunch of dried turnip leaves
1 tsp chilli powder
1 ball of cheese (diameter of approx. 5cm)
1 tbsp of oil
Salt
Preparation
Wash and boil the turnip leaves. Strain the turnip leaves and preserve the water. Chop leaves into small pieces and cook in water for about 20 minutes. Add the oil, chilli powder, salt and cheese. Continue cooking till the cheese melts and make sure you mix the soup properly. Add salt to taste and serve with rice.
This is a wonderful vegetarian dish that keeps the monk's warm during the winter months.
Happy cooking!