Sponsoring a monk for $500 USD/year ( less than  $10 USD/week ) will enable Lama Namgay to care for and educate more disadvantaged young boys; many of whom are orphaned and have no family to care for them. Alternatively, if you would prefer to offer a partial sponsorship  to address one of the needs listed below or an outright donation for the monks' well-being and education, you may also use the following bank account. By supporting these young, underprivileged boys you will be providing them with  hope for a brighter future and  the opportunity to rise above their challenging circumstances.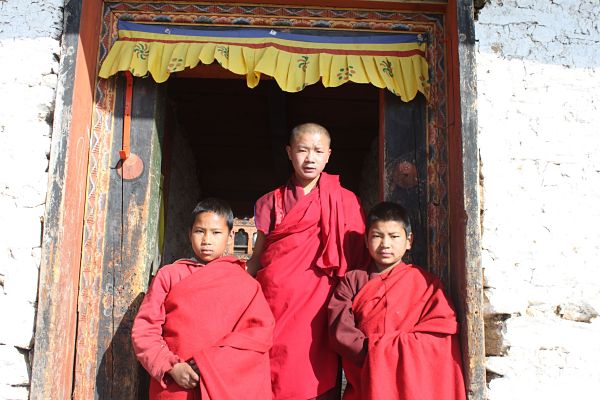 Your generosity will be far-reaching and generate great merit as it will have a humanitarian, spiritual and cultural impact. Please join others in making a difference to these young lives and the future of Phajoding Monastery. Sponsoring a monk for one year at a cost of $500 USD (30,000 ngultrum) can be broken down into the following components:
| | |
| --- | --- |
| Toiletries & incidentals | $120/year |
| Clothing / shoes | $120/year |
| Teaching materials | $200/year |
| Medical / transportation costs | $60/year |
| Total | $500/year |
Please note:  A sponsorship involves offering a set amount each year to help provide for the basic needs of the monks. You can choose to offer:
a full sponsorship

for $500 USD/year

OR

a partial sponsorship for either :

Toiletries & incidentals ($120 USD/year)
Clothing / shoes ($120 USD/year)
Education materials ($200 USD/year)
Medical / transportation costs ($60 USD/year)

OR

an outright donation
For those who wish to sponsor a monk (or make an outright donation) :
Please send us your name, contact details, amount deposited and the type of donation (sponsorship or out-right donation)  to: phajoding@phajodingmonastery.com
Deposit your $500 yearly sponsorship (or partial yearly sponsorship or outright donation) into the following bank account (please ensure that your deposit is tagged with your surname for identification purposes)
For those sponsoring a monk, we will send you a reminder email when your sponsorship is due for renewal.
From an overseas bank account:

Your bank will use their own correspondent bank to send funds to Bhutan (USD account).  Please note : if your currency is not USD, the international division of your bank will convert your currency into USD before it is transferred.

Please provide the following details to your bank:

Bhutan National Bank GPO Building, Chang Lam – Thimphu, BHUTAN BNBTBTBT 5000046542038 Phajoding Monastery, Thimphu – BHUTAN

From a bank in Bhutan or India:

Bhutan National Bank GPO Building, Chang Lam – Thimphu, BHUTAN Sponsor a monk 5000046542038