Caring for disadvantaged boys
The Phajoding monastery has a devoted community of just over 80 young, impoverished monks who faithfully carry on the spiritual traditions set down by the founder of this sacred site, Phajo Drugom Zhigpo.  It also serves as a refuge for disadvantaged boys.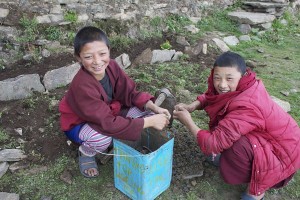 Around a half of these young monks do not receive the minimal Government stipend and coupled with the many more young boys from poor rural families wishing to join the Phajoding Monastic community, the monastery is unable to provide for their basic needs. Due to the limits on Government funding, it is impossible to increase Phajoding's capacity to care for more disadvantaged young boys without external sponsorship.
The goals of the project will be to: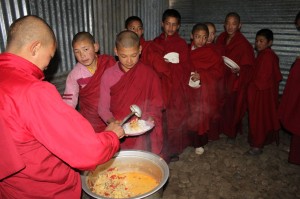 provide compassionate care and education for orphaned and disadvantaged boys within a holistic curriculum.
provide for the basic needs of these boys (including a sense of family and belonging)
model the importance of the values and actions of compassion, gifting, sharing and trust.
This project is needed to highlight the plight of the Phajoding monks, share information and connect with a wider audience in order to bring attention to this worthy cause.
The promotion of spiritual values
The success of this project will be measured by:
the number of impoverished young boys who are educated and empowered to lead a life that is meaningful to them
the extent to which it promotes secular spiritual values such as compassion, sharing, trust and happiness rather than suffering.
The senior Phajoding monks  believe that by focusing on these genuine intentions the necessary funds to help these young underprivileged boys will naturally arise. Increasing the number of monks at Phajoding will mean that over time hundreds of disadvantaged boys will be educated and empowered to lead a meaningful life.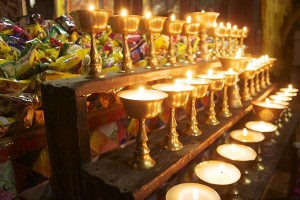 Their heartfelt prayer is that Phajoding Monastery becomes a thriving refuge for orphaned and disadvantaged boys, where their capabilities are enhanced through Buddhist and secular knowledge, giving them hope for their future where previously they had none.
We hope you enjoy and are inspired by this website. If the plight of the Phajoding monks touches your heart, please consider contributing in whatever way you can ( click on the 'support the monks' green button at the top right-hand side of this page ). Your help is greatly needed and much appreciated.