Lama Namgay has invited an 18-year-old student at Phajoding Monastery, Nima Yeaser, to start teaching the younger monks lama dancing. Nima recently joined the Phajoding family from Tashichho Dzong in Thimphu and is a master at the art of lama dancing. He has been a student of this form of dance since he was very young and has performed in numerous Tshechus (Buddhist festivals)… Phajoding is certainly very lucky to have him… what an amazing resource!
This form of dancing is no ordinary form of dancing but a form of spiritual practice performed in order to free all sentient beings from suffering. Each element of the dance from the specific movements to the costumes worn has a symbolic meaning and when combined with music they are said to have the power to liberate the mind of negative karma and remove the obstacles on the spiritual path of anyone who sees and hears them.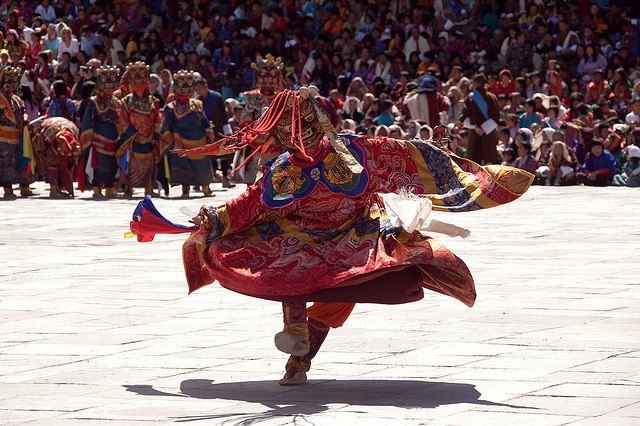 These sacred lama dances were first introduced by Guru Rinpoche (the Indian Saint Padmasambhava who brought Buddhism to Bhutan in the 8th Century) for the purpose of removing obstacles to the development of Buddhism. They were further developed by Pema Lingpa, the famous terton (discoverer of spiritual treasures) who is said to have dreamt of the particular movements and postures in these dances.  These dances cover themes such as the preciousness of human life, universal peace, respect of nature and the interdependence of all beings and phenomena. It is said that the simple contemplation of these dances can provide spiritual liberation if the causes and conditions surrounding a person are favourable.
These dances are commonly performed at festivals known as Tshechus, which are held annually in various monasteries and Dzongs throughout the country. These Tshechus are religious events celebrated on the tenth day of the month of the lunar calendar corresponding to the birthday of Guru Rinpoche but will vary according to the location and temple.
Since these sacred dances are a form of spiritual practice, the monk's main focus is on holding a pure motivation in order to liberate all sentient beings from suffering and is thus a powerful method of accumulating merit for the performer and viewer.
Here are some cute photos taken a few days ago by Lama Namgay of the little Phajoding monks learning the subtle movements.