Phajoding Monastery is on the 'Druk Path Trek', a popular 6-day trek between Paro and Thimphu. There is a large volume of tourist traffic during the peak seasons and as a result Lama Namgay has the opportunity to interact with many visitors from all around the globe, which he says is a wonderful way for him to learn about other cultures and to share his knowledge of the history of the monastery and the Phajoding Monastery project.
The trek climbs to altitudes of over 4000 meters and occasionally trekkers experience the side effects of altitude sickness and have to descend quite quickly. This happened to Dom from Denmark recently but as you will see this unfortunate event turned into a positive encounter for all concerned.
This is what Dom had to say about her recent experience…………..
Hi everyone, my name is Dominique but everyone calls me Dom for short. I live in Denmark. In Danish, "Dom" means 'stupid'. You can imagine the look on the Danes faces when I introduce myself. I am Malaysian, born in Singapore but grew up in Malaysia and now live in Denmark. I am working as a mechanical engineer for an oil drilling company in Copenhagen. Besides working, I enjoy hiking, biking, photography, reading and listening to music.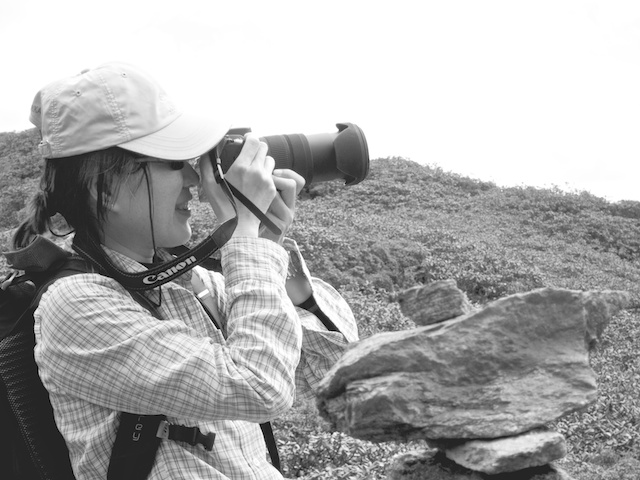 I arrived in Bhutan on the 20th September and started the Druk Path trek four days later. The plan was that Phajoding camp would be the last stop on the trek and for one night only. Not according to plan as I ended up spending 2 nights there and getting to know Lama Namgay and the wonderful work he is doing with the Phajoding Monastery project.
Here is what happened……..
Since the first day of the trek, I had a fever due to the unexpected temperature differences between the days and nights. I was not prepared for the very low temperatures at night in the camp. In addition to the fever, I had pain from my knees due to an injury many years ago. I love trekking and have been on different treks in Nepal, USA, England and Austria, but this time, I was not fully trained for this trek. I was testing my own stamina – it was a real struggle of mind over body. 
I did not mention anything about my condition to Kencho (my guide). Kencho and the trekking crew had noticed that I was suffering from cold at night and on the fourth day; he suggested that we should skip the highest camping site which was above 4000m and descend down to Phajoding which meant that we had to walk an estimated 7-8 hours over a distance of 21 km to reach Phajoding by sunset.
It was no surprise that after we reached the highest point at Simkotra Tsho (a lake at 4110m), my head started to spin in all directions, nausea set in and my knees felt like they were being crushed under the weight of my body. I was dragging myself every step of the way with the only reliable aide I had – my faithful walking stick.
Finally we reached the camp after more than a 9 hour walk – I was completely exhausted. While I was sitting in the camp I decided that I would like to get down to Thimphu the next morning since what I needed the most was a warm shower and bed!
While dreaming of a hot shower and waiting for Kencho, Lama Namgay walked towards the camp. I went to stand up but I could not, my whole body had decided to go on strike!
Dom :"Kuzu zangpo" – (in sitting position)
Lama Namgay: "How is your headache?"
Dom: "Not too bad thank you."  
(the truth is – please can you chop my head off, it is killing me!)
Dom: "After the shower I will be ok."
(are you serious? You can hardly stand up and you want a shower!)
Namgay: "Here is the key for the toilet."
Dom: "Thank you".
Dom: (talking to herself) "Yes, I definitely will stay and won't rush off in the morning. Such kindness and sincerity."
Kencho was now walking towards the camp.
Kencho: "Dom, I have permission from Lopen (we did not know his name at this stage) to turn on the heater and use the toilet, wait a while and you can take your shower."
Namgay: "It's a bucket shower."
Dom: "No problem, thank you."
The bond between us: Kencho, Namgay and myself had begun from the kind offer of a warm bucket shower!
At night, we discussed various topics of Buddhist philosophy. Starting from how to measure compassion? (by kg), how can the hell realms expand (to accommodate more bad people)?, how karma works? (pre-paid with compound interest), how to love your enemy? (you kidding me!). I learnt a lot that night and realized that my view was highly moulded by the materialistic world and based in the quantifiable and that this was not making me happy.
I am not a Buddhist – like many others, when I am fine, I don't believe in anything but when I am in a crisis, I believe in everything – I will pray to Buddha, Jesus, Allah and even the lizard on the ceiling at home. However, the conversation was the most inspiring conversation I have ever had.
In the morning, Lama Namgay showed me around the monastery and I was extremely shocked by the state of deterioration of the living conditions of the monks and how little they had to protect them from the cold. None of the monks have enclosed shoes; they were playing football without any shoes! Lama Namgay explained the situation that they were in and that all of these young monks came from extremely poor families – many do not have any parents.
I took many photos of their dire situation for the Phajoding Monastery project, which, by the way, I think is an amazing initiative and told him and Sasha (who has so kindly offered to help him with the Project) that they are free to use these photos to promote the cause. I am also going to help to raise awareness and support for the project where ever I go.
Many friends asked me why I chose to go to Bhutan. The reason is simple. After 8 years living in Europe, with experiences working in 11 different countries from the Far East to the Far West; I realized that holding onto Eastern values and trying to fit into the Western culture had brought about a clash within me in terms of life values. While trying to integrate into the modern, materialistic world in the West; I was struggling to hold onto my bearings. 
I diligently followed the code of conduct in the professional world. I became more efficient (ruthless), more sophisticated (cunning), more confident (arrogant) and more independent (self-centered). I am now living in Denmark which is (according to a survey) one of the "happiest" country's on earth based on standards of living but I was not content and I needed to know why.
I am so happy that I made the journey to Bhutan. I came here alone and left with a few good friends. I met Lama Namgay who then connected me to Sasha and the wonderful project that they have started. I have discovered the formula for happiness i.e. Happiness = Simplicity + Kindness…… (money is important but it's not everything). I certainly found happiness at Phajoding! The monks have nothing materialistically but they seem to be happy. Lama Namgay and Sasha have explained to me that this is what they want to share with others. They also want to promote a sharing culture based on compassion and trust so everyone's needs (as opposed to wants) are met. I get it and I'm happy to help them in their cause so everyone becomes happier.
While I was back in Singapore and Malaysia after my trip to Bhutan I showed the photos of Phajoding Monastery and the monks to all my friends and family and briefly introduced them to the Phajoding Monastery Project. I was grateful that everyone was so supportive of the Project and freely gave me money to support the monks at Phajoding. My friends and family have not lost the value of humanity despite the fact that everyone is so busy and stressed due to the pressures of modern life…….. I can feel that the kindness has come all the way from Bhutan and touched those in the Far East……. I feel so proud of them. 
I urge everyone who reads this article to please support this worthwhile project. It is the least we can do to make a change for the well-being of others and the survival of such a precious cultural site.
Dom
(Managing development: The Royal Government of Bhutan is currently in the process of developing an eco-campsite area at Phajoding to be located adjacent to Phajoding Monastery in an area of 4.35 acres. The proposed facilities include a camping area, toilets, kitchen, dining area, waste bins etc. All facilities will be built using local materials and traditional designs. The area in and around Phajoding is an important water catchment area for Thimphu so it's important that the increasing tourist traffic is managed in a way that has minimal impact on the environment).